Loonan genetics add profitability
to your bottom line.
Loonan Stock Farm - Corning, IA - has been in the beef seedstock business for 48 years producing Simmental, Red Angus and Red Sim-Angus™. The Loonan family originally was in commercial cattle production beginning in 1864. With their commercial background, the program is still focused on balancing all traits which contribute to increasing profits for the commercial producer.
Bred Heifer Private Treaty Auction
Saturday, September 23, 2023
Private Treaty Auction
1:00 p.m. CDT Sharp
At the Farm
1724 Holly Ave.
Corning, Iowa

SELLING:
70 Bred Heifers

Selling 70 Bred Heifers to calve in the spring of 2024
39 Purebred Red Angus
22 Hybrids (Simmental x Red Angus)
All are offered – none held back
9 Purebred Simmentals
All heifers will have registration papers transferred to their new owners unless otherwise noted. Additional April- & May-bred heifers will be available on a supplement sheet sale day.
The heifers will be penned as groups to be viewed ahead of our Private Treaty Auction. We will conduct the sale in the same manner as when we sold the heifers as calves, but now they will be sold as bred heifers, selling in groups of two or three. Prices start at $2,200.
The bulls were turned out on May 10, 2023, and ultrasound pregnancy tested on August 14 and 15. A lot of the heifers are bred to calve in February. We are ultrasounding again in September so some may be due to calve in April and May. A supplement will be available at the sale. An ultrasound picture of the calf in utero is provided for each heifer.
BENEFIT

For the continued expenses to the Barnes Families, Abigail and the late Halsie Barnes.
100% of the proceeds donated!
Hybrid Bred Heifer, 718
Due approx. Feb. 25, 2024
To be auctioned off at 2 p.m.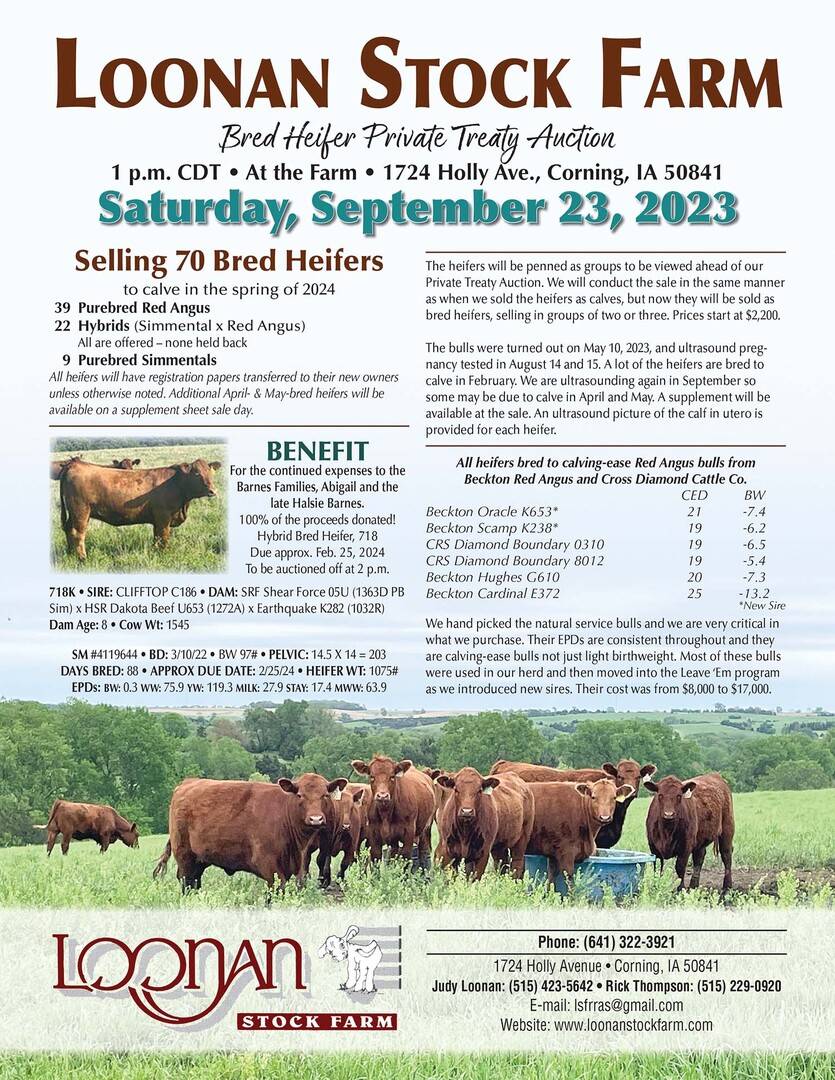 ---
49TH ANNUAL PRODUCTION SALE
Saturday, February 3, 2024
Private Treaty Auction
1:00 p.m. CST Sharp
At the Farm
Corning, Iowa
Red Angus • Simmental • Red SimAngus™

SELLING:
100 Yearling Bulls

Many A.I. sired by breed leaders
Carcass traits backed by 28 years of data
Uniform, thick & easy fleshing with great dispositions
The Loonan Program stresses maximum performance without calving problems
Affordably priced at $3,200, $3,500 and $4,000
Select your bulls Feb 4, leave at Loonan's with free delivery April 1 to May 10 when we are in your area, or pick up your bulls after test and semen check. (For over 300 miles, please inquire.)
Our 2022 heifers will be bred and offered in the fall of 2023.

We will be offering them for sale as bred heifers in the fall. They will still be sold in small groups of two, three or four, but will be penned by calving due date, sire, etc. They will be priced with the option to bid on them, and can be taken home that day.
Each heifer will be taken care of the same and will come with an ultrasound picture, just like they do on the Leave 'Em and Breed 'Em program.
Bulls will be sold as in the past on February 4, 2023.
You can come and see the calves at any time.
Call, write or e-mail for a complete catalog.
Give Judy or Rick a call:
Judy (cell) • (515) 423-5642
Rick (cell) • (515) 229-0920
1724 Holly Ave • Corning, IA 50841
lsfrras@gmail.com
This calf crop is outstanding and can produce great benefits and progress your program.
No cattle sold or reserved ahead of time.
Join the many repeat customers at Loonan's Sale on February 4 and let Loonan heterosis potential increase your bottom line.